After Breast Cancer BOOBIE-Q.
14/07/2019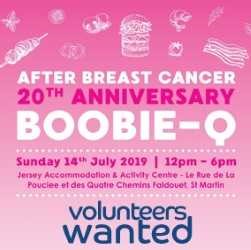 It's After Breast Cancer's 20th Anniversary and to celebrate their years of hard work they're having a well earned BOOBIE-Q!
There is a dress code of course - Summer BBQ with a splash of pink and there will be live entertainment, music, craft stalls and a raffle to win a special teddy bear.
Activities for little kids and big kids too!
Parking is available but you can also travel on bus routes 1, 2, & 13
Tickets are £15 per adult, £7.50 for ages 3 to 11, £0 under 2s
Please email info@afterbreastcancer.org.je for tickets